New
Versus Vintage: The Inner Struggle and Confessions of a Vintage Junkie
I'm a Vintage Junkie. This is where I live, breathe, buy, and sell vintage. The mere thought of buying something new and mass produced is just out of the question to me in most cases. This makes living my life and shopping a real challenge. I am starting to wonder if maybe there's something wrong with me. It has taken me two years to re-do my artist studio as I am still in search of the right cabinetry. My work in it has come to a halt until I reorganize, and I loathe buying those plastic bins at Target to keep my mixed media supplies in. Unfortunately I have more than a few.
These adorable little melmac plates are vintage inspired, made in China in Target.I am re-gifting these!
For instance, my friend knows I love vintage melmac dishes, so she goes out and buys me these adorable Target new melmac vintage look snack plates (above). First impression was "Oh, thank you how sweet.....and so cute....", although secretly I almost hyperventilated as they said "Made in China" on their backstamp. Am I unappreciative or just crazy? (I put them in my Christmas re-gift box.) Often tacky, mass produced, poorly made, and worse yet--- most often made in other countries, I must confess I find NEW things appalling. I do a lot of shopping on Etsy, at the thrift stores, estate sales, or at Krrb. Now I can't lump everything into this hatred of NEW items. I have three "exceptions to my rule".
It's Okay (In My Altered Mind) to Buy

NEW

Items If They Fall Into These Three Exceptions:
1) It's handmade by an independent artisan (Enter Etsy).
2) It's totally design-worthy and useful. (Notable Designers have their new items made in China.)
3) It's a necessity and I need it. (Enter the double standard)

Now I will go in depth to my irrational way of reasoning these three exceptions.
1. Handmade by Independent Artisan
I don't mind buying NEW items that are handmade or made vintage inspired by independent artisans. Items that can be used and are design worthy are okay in my book. I just recently discovered Kast Concrete Decor' on Etsy and I've been telling everyone.
The keywords here are: Functionality, Handmade, Eco Friendly, Bargain Priced, and Vintage Inspired.
Functionality: I can use these mid-century modern looking drawer pulls on my desk, in my kitchen, and in my artist studio.
Handmade: They are created by designer Greg Hensey from his Alabama studio.
Eco Friendly: They will last longer than plastic, which takes forever to break down (does it ever really decompose) in a landfill. Concrete is a nature friendly substance, and this designer is onto something , using "recycled concrete" that is indeed vintage inspired in design. I can feel good when I open my drawer.
Bargain Priced: For $8 a piece I'm getting something handmade and supporting the local economy in USA.
Vintage Inspired: The picture below is evidence of that.
They look like something out of the 1950's. Right on.
Now of course being new-hater I really did do my research. I've been burned before buying things that I thought were lovingly handmade but weren't. This guy is the real deal. He even offers other adorable recycled concrete creations like these little birds (below)--which you can handpaint as an art project and will serve as functional and modern decor in the home.
2. Design Worthy and Useful
This is where I get a 50/50 vote on double standard. One could argue that the "new" melmac plates above were indeed design worthy and useful. I just can't rationalize that when I know for certain so many used melamine plates are floating around just waiting for a good home. A quick search on Etsy yields 2500 items, and on Ebay over 3000 results. Two keywords:
Design Worthy and Useful.
They say a picture is worth 1000 words.
Not sure who designed this Tape Dispenser for Scotch,but it's useful and on my desk. It it breaks, I'll just transform it into assemblage art, I paid $9.99 and it came with the tape!
Now as for vintage tape dispensers, a quick search yields 167 in the vintage category, but that is false. Some are the same as my new
Scotch Shoe Dispenser
one above, that have been embellished by the artsy shop owner. So really, I don't feel bad about nixing the 130 authentically vintage ones for this functional and design worthy new one. Is this a double standard because the item may have been made in China?
But Wait
: In theory, 3M may have ordered these from China, or had them produced in China,
(and I'm not really certain about that)
but Scotch (3M) is an American owned entity (
Stock Ownership is Primarily US shareholders
), so the money really goes back to them when you purchase their products. They have six segmented companies in the overseas (and abroad) and of course, lots of places here in the USA that give folks here lots of jobs. (Of course, being skeptic, I did my research first. Is that enough to make your head explode?)
3. Necessity. (Enter

the

Made in China Dilemma)
Often we must buy things mass produced and Made in China and we don't even stop to think about it. We buy a new toothbrush, hairbrush, or package of batteries out of necessity. Household items such as our Televisions, iPads and Laptops are mass produced and Made in China. When is the last time you went to a dollar store? Everything inside is Made in China. I really love when I see an American Flag on a T-Shirt and the tag says Made in China. It makes me shudder. Enter now my shoes.
I made these, well, not really. I did design them and had them shipped in from China. These are one year old.
Converse (also called Chucks for Chuck Taylor) are my necessity. I was a 70's child and I remember when Converse were still made in the good old U-S-of-A. Sad but true they I think my foot must be molded into their flat-ness and that's the only shoe I can wear comfortably. Here I will be forty soon and I'm still rockin' the Chucks. Unfortunately, they are now made in China. It goes back to the sad fact that American Industrialism is defunct. Although many notable designers make Converse lines, they are all made overseas. So, the big struggle begins. This is mass production at it's finest. So I sit and ponder, do I really want to go buy vintage stanky Chucks from the thrift store and put my feet in them? (Um, no...)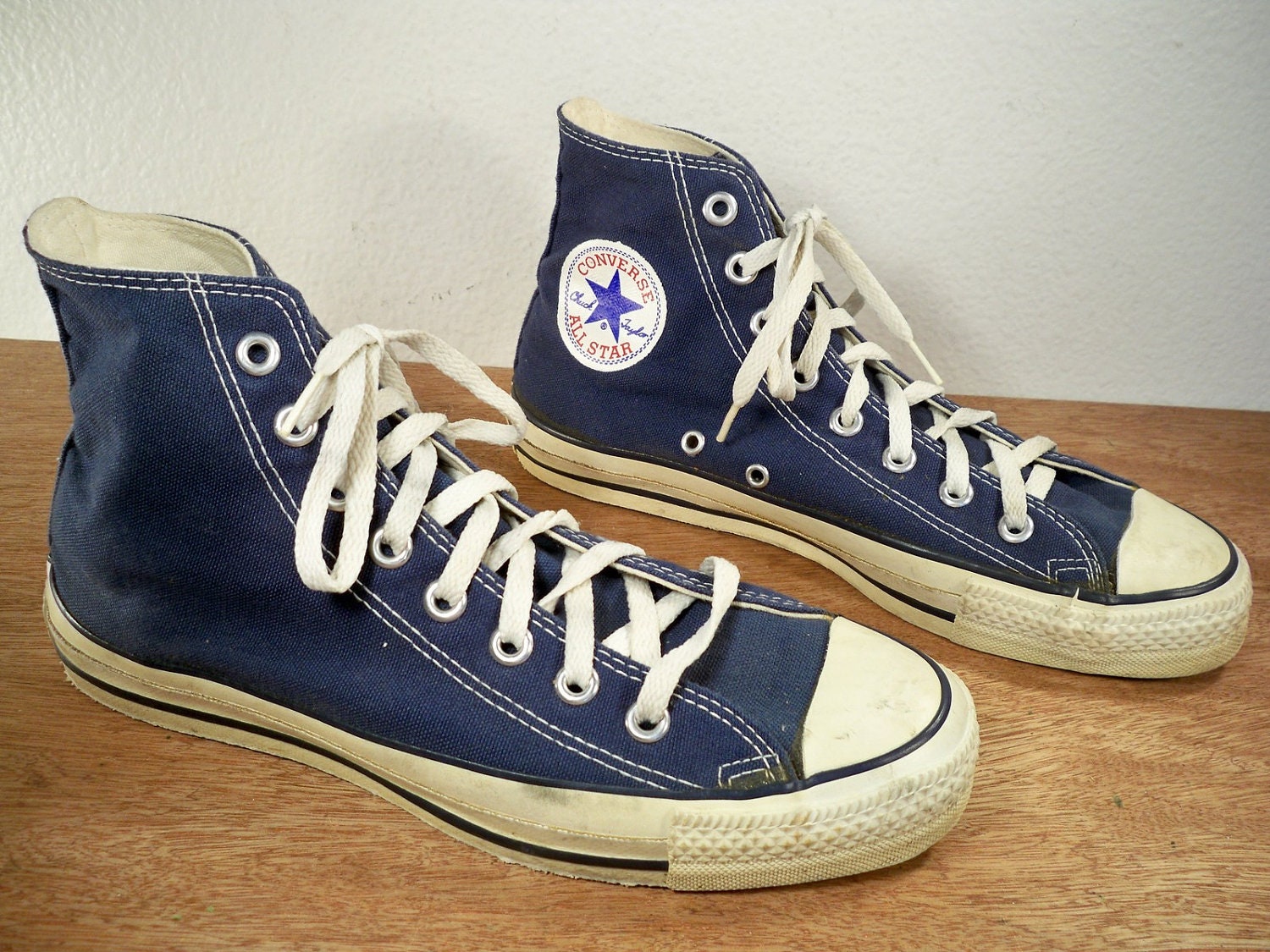 These vintage converse are on Etsy for $320 at JoeyMestand luckily not my size.
Aside from a few really neat vintage pairs on Etsy or Ebay, it's hard to find

good vintage Converse that are

clean and functional. In fact some people who buy them won't even wear them because they are collectible. So they sit on someone's shelf, untouched. So that's how I rationalize

my taking the plunge and designing my own.
Converse allows you to do this right on their website, shipped to you six weeks direct from China. I have to say I was impressed, right down to my every detail they got it correct on the first try. My name is embroidered on the back (these are my design) and they feel oh so lovely, just like the ones I've always worn and loved. Thanks to China, I'm a designer now, and someday, these used shoes twenty years from now, will be for sale in someone's Etsy shop.
Post by Ira Mency.
What do you think?
Tell me below or convo me on

Etsy.